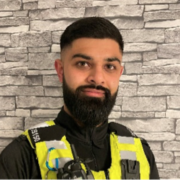 Being a police officer on response helps me make a difference within the community I'm based in. It gives me the opportunity to not only reduce crime but also build stronger relationships with the people. As a police Officer no two days are the same and at times my job can be challenging however this makes me thrive more in wanting to help people within my role has a police Officer.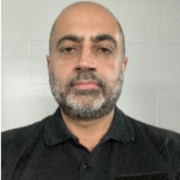 'I am a Public Order Instructor and work as part of a small team of officers who deliver training to all the public order officers in the MPS, City Police and British Transport Police. For me it is job satisfaction when you see public order trained officers doing a brilliant job out on the streets.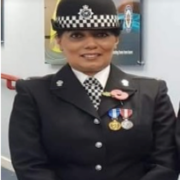 I have been a police officer since 1992. Doing good and helping others feeds the soul and this makes me extremely happy inside. This is why I joined the Police. To help those in need and to make communities a safer place to live in. The role of a Police Officer is extremely varied, which has allowed me to enhance on my knowledge, skills and ability, ensuring they are used to support the most vulnerable. This also boosted my confidence both in my personal and professional life. Being a member of the WMPSA and NSPAUK has given me many opportunities to support not only communities during events, but also support and educate colleagues.  I'm not only proud to be part of the WMPSA and NSPAUK families but also the wider police family.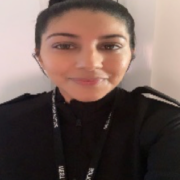 'Being in forensics this is a fast paced and demanding role which consists of many strings to the job. Every day is different.
You are at the forefront of helping and gathering critical evidence to solve cases. It is one job that is fascinating from start to finish. As every case is unique. One piece of key evidence can break a case. You are part of that.
I am the only Sikh female in my department. I am proud of that, and I want to help others pave the way.  Being part of the Sikh Association goes hand in hand as its about being part of a team where you help and support one another.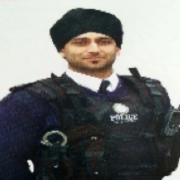 I joined the police in 2000 at a time where there were very few BAME officers. Having had to convince family who then eventually did agree and were supportive of my decision, I knew this was the right path for me. This was my seva for the good of the local community. Knowing that I was able to make a positive difference to people's lives & that I helped someone in their time of need was the reason I became a police officer.  With the support of the NSPAUK I knew that I & many of my colleagues have all felt that our sacrifices & efforts were justified when we first started our journey in policing, at a time when nobody believed in us. Now the foundations have been laid for future generations you can see how well the community are doing in society & all aspects of life.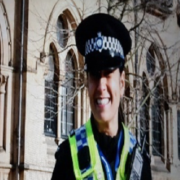 I joined the Police in my late thirties. As a mother with young children, this was quite challenging, but I was determined to succeed. My advice to women who are wanting to join is to be brave and do not underestimate the skills that you are able to bring to the job such as multi-tasking, problem solving and life skills. I love my current role as a Women & Girls Engagement Officer in West Yorkshire Police as it allows me to connect with the females in the city and build better relationships between them and the police building on trust and confidence in reporting crime. I have been on various teams and have learnt so many skills in different roles.
I have also had the honour of recently launching the West Yorkshire Police Sikh Association and I have been chosen to be part of a National Home Office recruitment campaign which afforded me the opportunity to visit 10 Downing Street and meet the Prime Minister. Being in the Police has not only given me a platform to personally develop myself but has opened so many varied opportunities.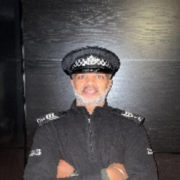 My name is Baljinder and i have served as a civilian member of police staff, police cadet and police officer with the Metropolitan Police and Police Scotland for almost 32 years. I have thoroughly enjoyed serving our communities during my time and seen huge changes in policing. When i started as a police cadet in 1991 there were very few police officers from ethnic minority communities. Having worked in the Police Scotland Positive Action Team for the last 5 years in tandem with the National Sikh Police Association UK it gives me great pleasure to report that the number of Sikh police officers has grown significantly. Sikh police officers are represented both in senior ranks and specialist departments across UK policing. I look fondly upon my 32 years of police service during which i worked with numerous surveillance and counter terrorism teams. I am now at the end of policing career as i am due to retire in January 2022. I wish all our police officers the very best with their careers and hope the NSPAUK will continue with their amazing work and continue to go from strength to strength
It has always been a lifetime ambition to become a police officer.
I am three years into my service and it's already an amazing journey. The most enjoyable part of it is without doubt the difference you can make in peoples' lives and more importantly how you can help change their life around.
I also love the rewarding part of the role knowing that you've done your upmost and left no stone unturned in helping a victim of crime.
The least enjoyable is something I kind of expected to see when I joined West Midlands Police in 2018. Sadly, I have been and seen children and adults at scenes who have lost their lives and it is dealing with this which can be very hard.
Thankfully & gracefully, the National Sikh police Association UK and West Midlands Police as a whole across all platforms have been incredible in supporting myself and all officers through these traumas. I am also extremely honoured and proud to be part of the National Sikh Police Association UK and delighted in steering more Sikhs in joining what is the best job in the world.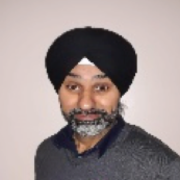 'I am a proud Sikh police officer with Leicestershire Police. I serve my community, whoever they are, with equal respect and diligence. The NSPAUK has given me support, guidance and a platform to be recognised further to enable my service to be bettered with excellence.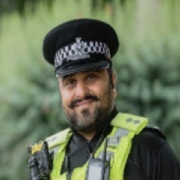 I currently serve as an Inspector on the Violence Reduction Unit and Project Guardian, a department dedicated to reducing serious youth violence and knife crime. I am passionate about my role because I want to do everything I can to ensure our children and young people feel safe and protected.
'I have been with West Midlands Police [WMP] since late 2000, where I joined as a young and enthusiastic officer ready to make a difference. I have to say that my enthusiasm is as strong today as it was back in 2000. I have thoroughly enjoyed my time within the force, which has helped me to grow and develop not only as a person but as an investigator, which I have a thirst and passion for.
To date I have undertaken the role of a detective constable, Detective Sergeant and now as a Detective Inspector who is senior investigating officer [SIO] accredited. I am currently in charge of the Western Adult Complex Investigation team dealing with offences such as attempt murder, modern day slavery, rapes, honour-based abuse and forced marriages. I still have the passion and drive to get up and come to work each day as I enjoy what I believe to be the best job in the world.
One of my aims whilst in my current post was to try and educate the Sikh community around the offences surrounding domestic abuse, honour-based abuse and forced marriages. As such, over the past few years I have worked closely with the Sikh Helpline to reach audiences nationally. This has helped to build a solid relationship not only between myself and the Sikh helpline but also WMP and the Sikh helpline. I hope that this partnership continues to grow and goes from strength to strength.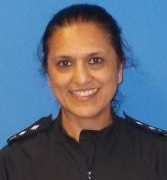 In my role as I have worked with the local neighbourhood teams to ensure they understand Sikh culture and engage with the community. An example of this is around missing people within the Sikh community, especially young people and having an overview of Sikh sensitivities. This provides opportunities for engagement and community cohesion.